This tower bimini is an exclusive innovative patent design! that is universal fitting to just about all standard wakeboard towers on the market.
A Bimini Top which is fully adjustable to suit your tower.
It is fully adjustable it can slide forwards or backwards for minor adjustments.
The support arms can be at the front, rear, above or below for the right attachment required for your tower.
The main cross bar is pin adjustable and will lock in strong between your wake tower legs.
When towing your boat simply remove the cover via zippers and velcro, the frame is left in position.
Wakeboard Tower Bimini Materials
We use only genuine marine grade VIII, UV resistant material for our covers.
The bimini frame is 1 inch bright dipped anodised alloy with thick walls.
Fittings are UV treated nylon with stainless hardware.
Clamps 6061 polished alloy.
How to choose the correct size?
Measure across the boat between the front legs and between the rear legs across the boat at the height you would like you bimini to sit.
If your measurements are between 53inch to 62inch, you need to order 1350v small size
Small 1.35m(W) x 1.9m(L) or 53in(W) x 75in(L).
If between 63in to 82in you need 1580 large size
Large 1.58m(W) x 1.9m(L) or 62in(W) x 75in(L)
If less than 53inch, you have to install the tower bimini above your tower top, we recommend large size but you need to order a pair of lifting bracket as they are not included in the standard package.
If above 82in, you cannot use this bimini, we recommend you Reborn Pro2 Extra Large Tower Bimini.

This list is for 1580V.

Bimini size: 1.58m (W) x 1.9m(L) or 62in(W) x 75in (L)

Clamps will fit legs
.
Clamps 2.5 inch, 2.25 inch and 2 inch tower leg outside diameters.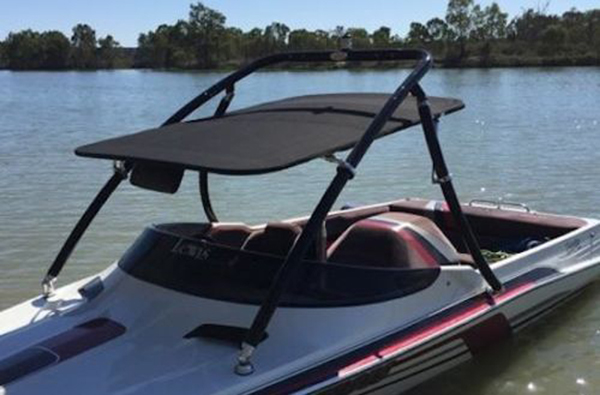 Above picture shows the bimini on Origin advancer tower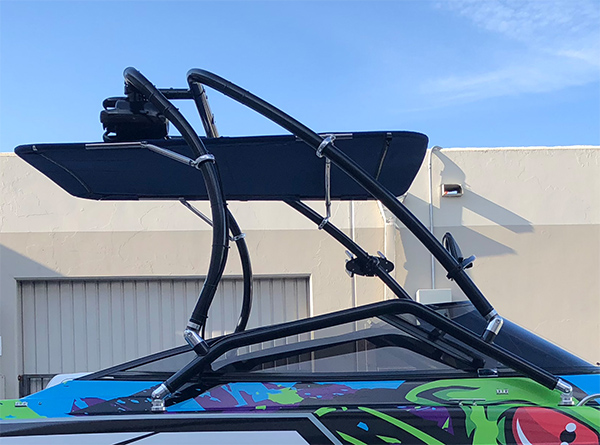 Above picture shows the bimini on Origin catapult tower